The JC6 Futures Fair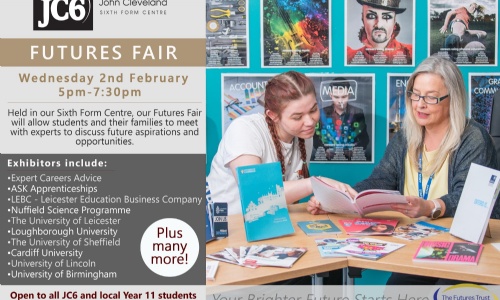 Please enter an introduction for your news story here.
You are warmly invited to attend the JC6 Futures Fair on Wednesday 2nd February 2022, 5pm-7:30pm. The event will be held in our dedicated sixth form centre and will allow Year 11 and Year 12 students to investigate future opportunities and career paths by receiving expert careers guidance, discussing apprenticeship opportunities, meeting representatives from a selection of leading universities from across the country and much more.
The Futures Fair is also a fantastic opportunity for Year 11 students to get a taste of the careers and employability opportunities here at JC6 and to see our sixth form centre in action during one of our regular community events. Students and their families do not need to book to attend the event and upon arrival should head to the green gates to the right of our reception building where a member of our team will be on hand to welcome them.
Exhibitors include:
•Expert Careers Advice
•ASK Apprenticeships
•LEBC - Leicester Education Business Company
•Nuffield Science Programme
•The University of Leicester
•Loughborough University
•The University of Sheffield
•Cardiff University
•University of Lincoln
•University of Birmingham
Plus many more!